This Silver era legend was SCARY strong.
It's Halloween so we figured it would only make sense to give you a little peek into this bodybuilder with so much supernatural strength it was outright scary.
Who was Marvin Eder?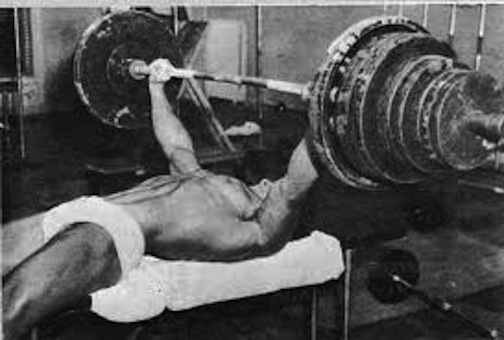 You may or may have not have heard the name before… but Marvin Eder aka 'Biceps from the Bronx' was one of the greatest and strongest bodybuilders from the Silver era and of all time.
He was both a bodybuilder and a weightlifter.
Marvin sadly passed away earlier this year on February 1st, 2022 at 90-years-old.
Although not nearly as popular as other bodybuilding legends both in the Silver or Golden era (politics in bodybuilding made sure of that) Eddie's strength and bodybuilding prowess surpassed many of the more well-known bodybuilder.
This politics in bodybuilding would make Marvin retire very early despite his immense passion for sports.
Marvin was a fine gentleman and champion to his very core. But underneath his polite demeanor was a beast of unrivaled physical strength. body weight big lifts reg park
Early life of Marvin Eder
Marvin Eder had been a fighter since a very young age.
As an infant, Marvin got sick very easily and suffered many illnesses. As a teen, he had a very skinny physique and at this stage, no one would have thought in their wildest dreams that this skinny teenager would one day be known as 'Biceps from the Bronx.'
Marvin was also coming in short in terms of height.
He stood at just 5 foot 2 inches tall, and despite his passion for training and lifting weights, several people would suggest he keep away from the weights and even stop training altogether-as they felt all the heavy iron would stunt his growth.
But Marvin was having nothing of it.
He still wanted to train, so he found a local park where he could do just that and spent most his time there doing chin-ups and dips.
Marvin Eder's Weightlifting Career
Marvin Eder's career was unfortunately short-lived.
He started bodybuilding in the "East Side Barbell Club" gym and only competed for two years in 1949 and 1950.
From the get-go, Marvin was born to be one of if not the most impressive bodybuilders of all time.
He was in great shape, and much better than your average lifter. However, he had limited knowledge with iron and he was never able to actually reach his expected potential…
Until he met Abe Goldberg- a great bodybuilder and strongman.
Abe would take notice in Marvin and soon enough that notice would turn into great interest and he would begin training and guiding him to becoming a fitness phenomenon.
Marvin's weightlifting records
Marvin had phenomenal upper body strength, notably his pecs and triceps.
He was a master of weight training and free weights and would also very often strap extra weight to make his workouts more challenging.
He could lift heavy weights far beyond his own body weight with very little rest due to his enormous recuperative powers and heavy training was nothing but another walk in Reg park to him.
Here's a list of his most impressive and notable weightlifting feats;
If you're wondering what a Marvin Eder workout looked like, then allow us to describe it for you.
500 lbs (227 kg) Incline bench press: Marvin was the first person to do it while weighing less than 200 lbs (90.7 kg).
665 lbs squat (301.6 kg)
A 750 lbs (340 kg) deadlift.
Bar dip – Marvin did a single rep dip with two grown men hanging from his feet (434 lbs).
Deep squat for reps – Marvin could do 50 repetitions with 300 lbs loaded on the bar.
Shoulder press – Marvin could press 360 lbs when taking the barbell out of the racks.
Side lateral raises – 120 lbs dumbbells for reps were comfortable for Marvin
Bicep Curls – reps with 100 lbs dumbbells were said to look like warm-up.
Olympic press – 330 pounds.
One-arm chins – eight consecutively with each arm.
Press behind neck – 305 pounds.
Side press, left hand – 220 pounds (with a man sitting on his hand).
Consecutive handstand push-ups on a horizontal ladder – 25.
In addition to these crazy achievements, Marvin Eder was known for being the greatest overhead presser in the world.
He put his insane pec power to good use and beat the world record overhead barbell press by 15 pounds with a 345-pound lift.
Marvin Eder was extremely passionate about competitive weightlifting and had a goal of Olympic weightlifting.
Unfortunately, this ultimately did not happen.
After retiring from weightlifting, he went on to pursue a career as a plumber.
Marvin's Legacy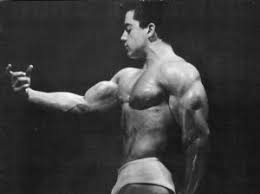 When Marvin was asked how many dips he could do, his answer, "ALL Day!"
One can only wo
Talk about scary.
Perhaps the only thing more astounding than his astonishing strength was the fact that he was was a very fine gentleman and 100% natural and also against steroids.
In fact this quote is from one of his interviews in 2019, three years before he passed away
'You can't pour artificial testosterone into yourself and growth hormone and God knows what else without upsetting the natural homeostasis of your body. You will suffer from it.'
He also credited the all-out heavy lifting he did to the thickly developed physique he possessed at his peak where, at five-foot-eight-inches, he weighed 200-pounds with
Arms over 19-inches,
A 50-inch chest,
26-and-a-half inch thighs and
17-and-a-half inch calves.
On October 7, 1989, Marvin was inducted into Annual Association of Oldtime Barbell and Strongmen where he was honored with a highest achievement award for his pioneering work as both a bodybuilder and weightlifter.
Marvin's Competition History
1949
Mr. America – IFBB, Junior, 2nd
Mr. New York City – IFBB, Junior Most Muscular, 1st
Mr. New York City – IFBB, Junior Overall Winner
North American Championships – IFBB, Junior, 1st
1950
Mr. America – AAU, 6th
Mr. Eastern America – IFBB, Winner
1951
Mr. America – AAU, 3rd
Junior Mr. America – AAU, 2nd
Conclusion
Although his career was unfortunately short-lived, and he never did get the acclaim his fellow Silver Era stars like Steve Reeves due to politics-Eder still remains an icon.
Only a few guys could be on the same level with him and perhaps no one could actually surpass him when it came down to raw strength.
Even when put against Golden Era superstars like Arnold and Franco Columbo it's hard to see any of these icons coming up over him.